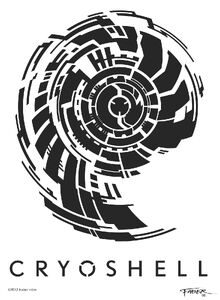 Cryoshell (often stylized as C R Y O S H E L L) is a Danish rock band from Copenhagenformed in 2006. The line-up currently consists of lead vocalist Christine "Lore" Lorentzen, guitarist Kasper Søderlund and keyboardist Mikkel Maltha.
In the band's early years, they recorded several songs used as soundtracks for Bionicle, a popular series of construction toys manufactured by The Lego Group. In the wake of the theme's original discontinuation, they recorded their self-titled debut studio album, released in 2010 in Scandinavia and later in other global territories. Preceded by the release of two singles, the album is set for a global reissue at a currently unknown date. As of 2017, the band is in the process of recording their sophomore album Next to Machines, with a projected release date of winter 2017–18.
Ad blocker interference detected!
Wikia is a free-to-use site that makes money from advertising. We have a modified experience for viewers using ad blockers

Wikia is not accessible if you've made further modifications. Remove the custom ad blocker rule(s) and the page will load as expected.